Recent news about Microsoft eying Yahoo! to topple Google has created much buzz. Microsoft shares went skyrocketing high soon after the news was out. A lot of questions are now running through everyone's mind. What will happen next? What is the future of Internet?
Google has redefined search in recent years and it's the youngest player among the three majors. Microsoft entered the market in 1975 while Yahoo! in 1994. Google still has a strong market reach worldwide, smartly leading the cyberspace. Will this acquisition pose a major threat to Google is what needs to be seen.
Microsoft till date has acquired over 120 companies and has employee strength of about 79000 while Yahoo! has acquired more than 55 companies and has around 13600 employees.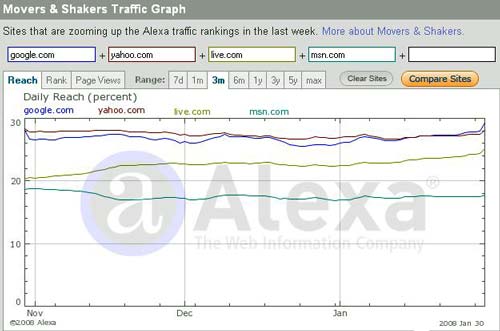 Yahoo! ranks number one in Alexa Traffic Ranking followed by Google. Microsoft's Live and MSN are among the Top 5 sites. If this acquisition goes through, Microsoft will own 3 of the five highest traffic generators. With Yahoo! raking in 28% reach, live.com with 25% reach and MSN bringing in 17.75% reach, Microsoft sure has an upper hand.
But does this mean Microsoft will emerge a clear winner? Even after the Microsoft buying out Yahoo!, Google will still be 4 times the size of Microsoft then. After all, Google has 76% search engine market share! And Google can very much capitalize the opportunity till the time deal is closed.
Now what happens next needs to be seen. Let's wait and watch! And yes, at least for now, people must be "Googling" to find out more about Microsoft's deal with Yahoo!