I love to connect with my readers in ways they like. I was looking for a contact form that I could readily add to my site so that people can easily get in touch with me. I was previously using a custom contact form written by myself. However, now as I have moved to WordPress, I wanted something that I could handle from within WordPress.
I searched through the WordPress plugins that would do the stuff, tried out a couple of plugins. However, I was not that satisfied with the look and feel they provided. Most of the plugins did not allow much customization or in other words, they were not that flexible.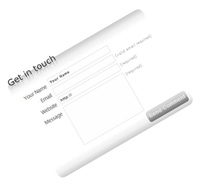 I was about to give up and create a simple PHP contact form myself. Fortunately, I came across Oliver Seidel's cforms II and it worked wonders! This is something you must have in your WordPress. I absolutely loved it.
cforms is a very powerful and easy to use plugin for building web forms under your WordPress installation. You can create multiple forms which you can customize as per your needs. And that too in simple steps! Once you have created and saved your form, you can insert it on your pages/posts simply by clicking the cforms button.

cforms comes with a TinyMCE button that appears on your post/page WYSIWYG editor.
If you are concerned about look-and-feel, as I was, cforms comes loaded with a number of CSS styles to choose from. If you are still not satisfied, you can tweak or build your own styles and use them within cforms.
You don't have to be a computer geek so as to use cforms. cforms provides an extensive help section within the plugin to help you build and configure your forms.
You can have AJAX within your forms. If you don't like AJAX, you can easily turn it off. You may enable AJAX in specific forms. If AJAX/Javascript is not supported or is disabled, it automatically falls back to standard method.
cforms keeps your readers closer to you by allowing you to send them automated customized notifications/confirmations. You can insert CAPTCHA, verification questions to prevent spam. You can have file uploads, date pickers. You could even replace the comment box under your posts with a custom-built comment box from cforms. It also supports localization in a number of languages, so you can even display it in your language if it is supported.
This is not all. You can keep track of all the form submissions from within your WordPress. You can as well download these reports in XML, CSV formats.

The Best part is you have the complete control of what and how you want the forms to be displayed. No doubt why cforms is so popular among the WordPress users and Oliver regularly supports the plugin and adds newer functionality by releasing regular version upgrades.
I recently conversed with Oliver. He is a very down-to-earth and a friendly person. He is the genius behind cforms and Delicious Days, the website he runs along with Nicky. Delicious Days talks about all that is delicious – cooking recipes, cookbook reviews, travel experiences and more.
Thanks Oliver for such a wonderful plugin!