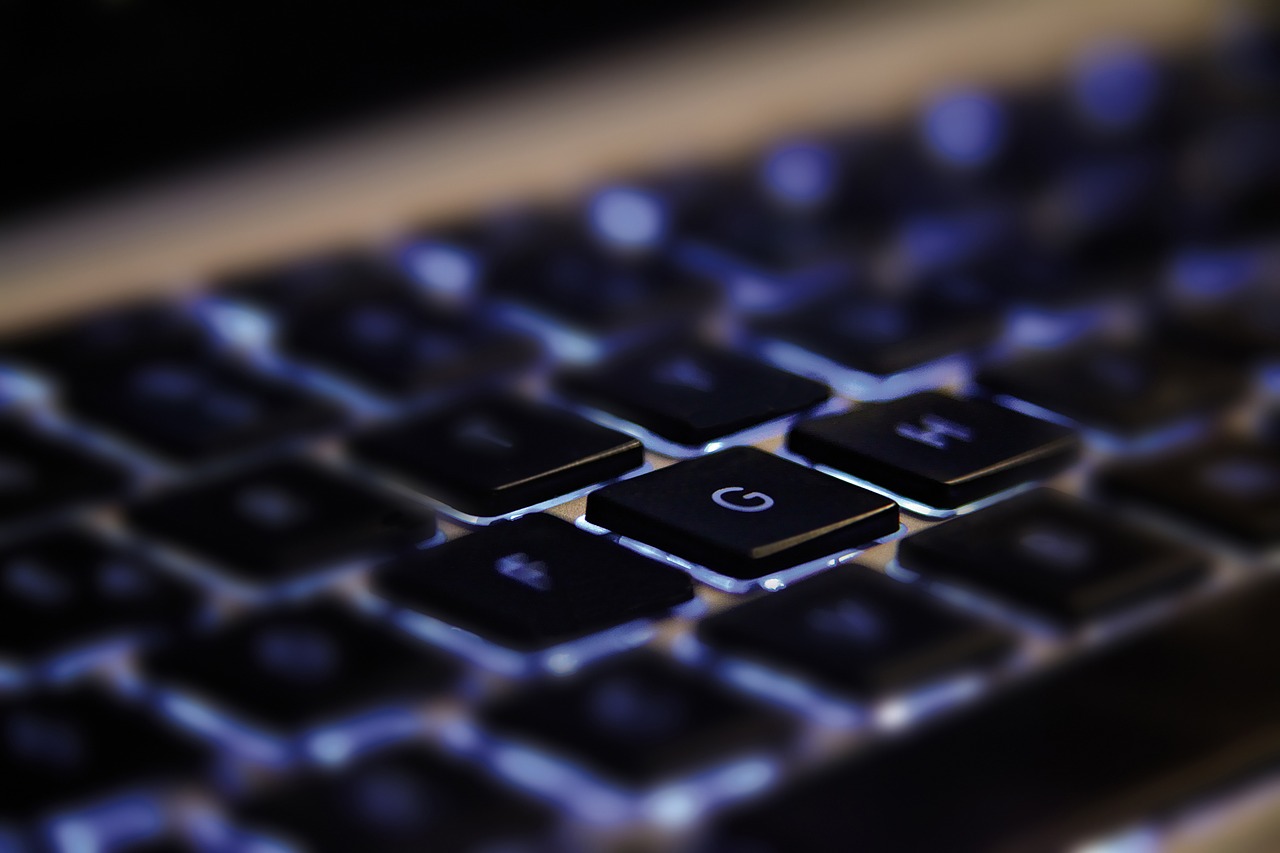 For the last couple of months, the world has been struggling from various ransomware attacks — from the infamous WannaCry virus in May to the latest Petya cyberattack this Tuesday.
Luckily, there are some very basic rules of how you can protect yourself from ransomware — like doing regular back-ups, using antivirus programs, installing latest updates for all the software you use… And of course, don't you ever open suspicious emails and click malicious links in them.
In the world of SEO, we're fighting off our own kind of attacks — the so-called spam backlinks. And they're every bit as troublesome as those inconspicuous links to North Korea viruses you might find in your inbox.
But what are spam backlinks and where are they coming from?
As opposed to white hat SEO, where you optimize your website, improve its on-page stuff, build high quality backlinks and so on, there's the nightside of the things called "negative SEO".
In plain English, negative SEO is aiming to harm the competition quick and dirty. And its most popular form is building a ton of low quality (aka spammy) backlinks to a competing site.
They work as follows. Your competitor gets in touch with cheap fiverr gigs, link farms and comment spam providers. There they buy tons of trash links, all linking to your website. Then, Google's algorithms see a sudden rise of low-quality backlinks pointing to your website. It thinks that it's you who're using shady link schemes. And it is a major violation of Google's guidelines.
So Google takes action. You get yourself either an algorithmic or a manual penalty, your rankings drop and your site can even be de-indexed completely.

In a nutshell, you're in trouble.
Now, don't panic! There are some basic ways to detect spammy backlinks early on and protect yourself from harm. But first, let's clear up what spam backlinks really are.
Most common indicators of spam backlinks
A typical spam backlink will look like this:
Irrelevant anchor texts that usually don't make any sense at all

Links from foreign domains (Chinese (.cn) or Russian (.ru) in particular)

Lots from low-quality linking sites that don't nearly belong to your niche.

Links from hundreds of unreliable link directories/link farms.
At the end of the day, it's obvious if a backlink is shady — when you see one. Therefore, the most accurate way to find bad backlinks is to manually review your backlink profile. Better yet, do those reviews regularly.
But how do you approach this if you have thousands of backlinks? The smart way would be to go with an established SEO toolset like Ahrefs or Moz. Reviewing tons of backlinks manually is never not a pain, but if you have the right instrument, the whole process gets a lot easier.
Two methods to detect spam backlinks
1. By detecting irrelevant anchor texts
As I've mentioned, the anchor text is one of the strongest indicators of spam backlinks.
Imagine writing for a U.S. website about video games. I bet you would be surprised to see that there's a group of Chinese websites that are constantly linking to you. What's more, every link comes with an anchor link 'cheap Mickey Mouse socks'.
So yeah, if you see a lot of irrelevant anchor texts, the links behind them are most certainly spammy.
Here's where those SEO tools come in handy. For example, in Ahrefs Site Explorer you can click the 'Anchors' report under 'Backlink Profile' and see all anchors pointing to your site.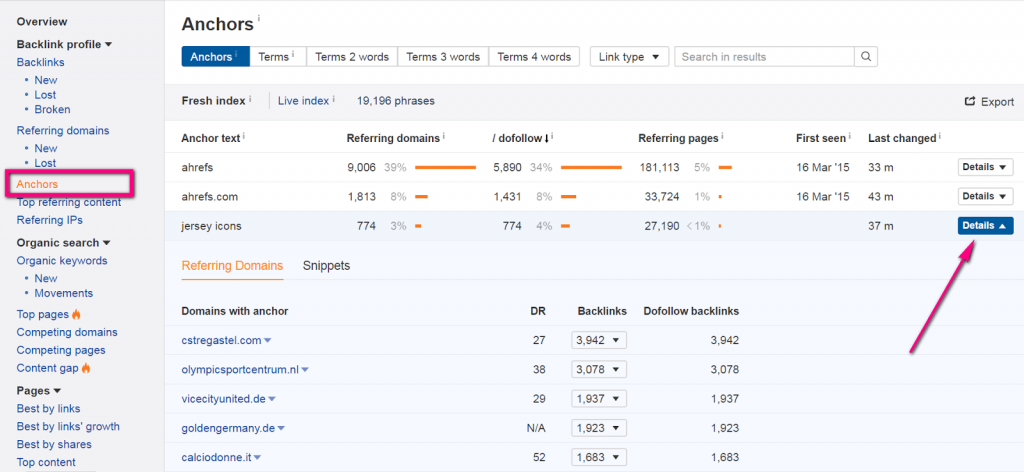 As you see on the screenshot above, there are thousands of backlinks pointing to Ahrefs with the same anchor text — "jersey icons".
After a quick glance at the websites referring to Ahrefs with this text, they are all irrelevant to the SEO niche and mostly have foreign domain extensions. Which is a rock hard evidence of a backlink being spammy.
2. By detecting low-quality referring domains.
To be 100% positive, you can click on some of the referring domains from the list and make sure that they are as trashy and useless as it seems. We can do it in three simple steps:
Within Ahrefs Site Explorer tool, choose the "Referring domains" report and you'll get to see all the domains that link to your website.

We're looking for websites with the lowest domain authority in the list. In Ahrefs we measure the reputation of websites by the metric called Domain Rating (DR). So just sort out your referring domain list from the lowest DR to the highest.
You're probably going to see some pretty suspicious domains that are definitely out of place. You can click on the number under the "Backlinks" column for details on each of them. Once again, you should be looking for common spam indicators that we've mentioned before — foreign domains, weird anchors, etc.
How to fight against spam backlinks
Finding spam backlinks is half-deal. Now you'll probably want to get rid of those sneaky bastards, right? Luckily for us, Google has come up with a simple solution for such cases — the Disavow Tool within Google Search Console.
Back in the old days, you would need to contact each of the harmful domains and ask them to remove those spammy backlinks. It was pretty hard and pointless work, I must say. Owners of spam Russian domains are in no hurry to help you out.
Now you can simply disavow them. It's like telling Google that you don't want to have anything in common with those toxic links. If you do this, search engine's algorithms will ignore those backlinks and you won't get in trouble.
Here's how it works:
Once you've detected suspicious backlinks after manual review, compile a list of them in a .txt document. It should look like this:

Now login to the Google account associated with your domain (in Search Console) and choose the disavow tool there. There you'll need to upload your .txt file and submit it to Google.
Google algorithms are working really fast these days. From there on, they will be ignoring the spam backlinks. You're safe.
Bottom line
When harmful malware penetrated your computer's defences, the process of recovering is very long and painful (if not impossible).
It could be even worse in the business in SEO, because here there are no backups. Repairing your Google reputation after it's tarnished by Chinese websites selling socks could be a nightmare. And it's easier to get penalized because of some unfair competitors than you think.
In both cases, it's better to secure yourself beforehand. Make backlink audit a part of your routine — just like backups. This way, you'll never need to recover from Google penalties in the first place.