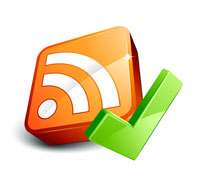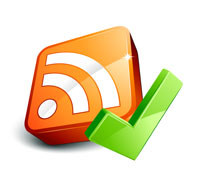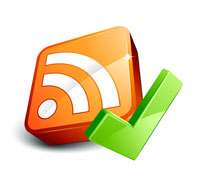 A good number of you already use Feedburner to syndicate your blog posts via an RSS feed. Let us discuss how to best optimize your RSS feed to provide the best value to your subscribers at the same time reap maximum benefits from your feed.
RSS stands for Really Simple Syndication. Its a technology that is being used by millions of web users around the world to keep track of their favorite websites. Darren has explained RSS in plain and simple English. Following graphic illustrates how RSS works. If you have never used an RSS Feed reader, try Google Reader.
Is Your Feedburner RSS Feed SEO Optimized?
If you aren't already using Feedburner to syndicate your feed, now is the time to do so. Go ahead and sign up to burn your feed. And if you are already using it, read on to find out if you are using your RSS Feed to its best potential.
1. Publish Full RSS Feed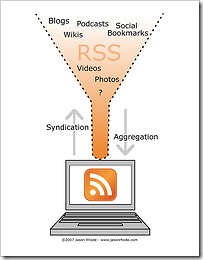 There is more to this than meets the eye and is truly beneficial. Publishing full feeds is better as partial feeds require your users to do that extra click to read the entire article. Most users will dislike that.
Amit's experiment revealed that publishing full feeds actually helps increase your RSS subscriber base. Amit gained 1000+ new subscribers in less than a month just by switching from partial feeds to full feeds.
If you are worried about spam bloggers who steal your content and repost items to their website, don't worry. More on this later in the post.
2. Use FeedFlare to promote Social Sharing
FeedFlare allows subscribers to easily share your posts to their social network. It simply places social sharing and bookmarking links on the footer of your RSS post. You can choose the services you wish to display. Email, Facebook, Twitter, Google Buzz could be the obvious choices. You can choose more services you prefer.
3. Optimize RSS Feed Title and Description
If you already have a feed but later find that its title or description isn't that SEO friendly, use the Title/Description Burner to change these meta tags for your feed.
4. Cross Post Your Articles to Another website
BuzzBoost will help you republish your burned feed's content as HTML. Set it up and put the generated code snippet in another website you manage. This is simple way to cross post your articles.
5. Don't Forget That Email Signature
Use Headline Animator to create a small HTML snippet you can put in your email signature or anywhere on your website. It shows an animated banner that cycles through your most recent posts.
6. Offer Email Subscriptions for Your RSS Feed
Once you set this up, Feedburner will automatically send out regular emails to your email subscribers whenever new content is posted. I guess most of you must be already using this.
Make sure you are branding your email well. Add your logo. Customize the confirmation email. Set the delivery options the smart way. Set the delivery time when your blog readers are most active. You can track the user activity on your blog to find out the best delivery time.
7. Use Creative Commons
If you like other users to republish your blog posts, give them a legal way to do so by providing a Creative Commons license. What about those who illegally post your content to their website? You can use them to your advantage. Read the next point.
8. How to benefit from spam blogs who steal your feed content?
It is not uncommon to find websites who republish RSS feeds of other blogs without permission. Use this simple WordPress hack to add a small footer on your RSS posts that links back to your website. Alternatively, if you aren't much tech-savvy, use the RSS Footer plugin which helps you do the same thing.
9. Notify and Socialize
Use PingShot to automatically notify different feed reading services proactively when new articles get posted. Socialize can help you to post to Twitter whenever new posts are published. You may be already doing this via TwitterFeed or HootSuite or your own Twitter app.
10. Flaunt your RSS Feed Count
Use FeedCount to generate a dynamic graphic that displays your subscriber count on your blog. Provide your users easy way to subscribe using a chicklet of your choice using Chicklet Chooser. Keeping the subscription options above the fold helps increase the subscriber base. Be consistent with your blogging activity to retain your RSS Feed subscribers.
What do you use to get most out of Your Feedburner RSS Feed?
Share your ideas to further tweak the RSS feed of your blog.