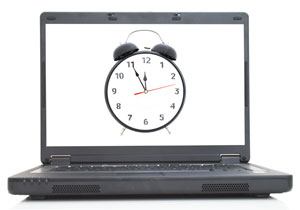 Balancing all the activities with right time management skills is crucial for everyone and bloggers are no exception. As bloggers, many a times we don't find it easy to allocate enough time for blogging amidst other equally demanding activities (family and profession?). Whether you work and blog alongside or are a full-time blogger, balancing time is vital. Here is some expert advice to manage your blogging activity efficiently:
PS: If you don't like reading paragraphs, head straight to the summary section to quickly read the 25 tips.
Set your priorities
Think about what has priority for your blogging efforts: writing posts, commenting on posts, responding to your readers' comments? All these activities need considerable time.
You would say writing posts would be the highest priority. Yet, reading other blogs in your niche, conversing with other bloggers, engaging your readers by responding to comments on your blog takes considerable effort and time. And this should not be ignored. Your readers will be happy to know that you value them reading as much as they value you writing. Comments help in building relationships and this is what keeps your readers coming back!
Make a habit of reading other blogs in your niche. Best way is to keep up with new posts is via RSS subscriptions. Taking time out to read and appreciate (comment on) other blogs can give you much needed insights into your niche and you can better target your new posts. We all write off info we see elsewhere at times, however key is to put your own personal slant on it. When you build upon someone's post, always credit the original author by linking to his/her post.
How frequently should you post?
There is no hard and fast rule for this. Can you really have one size that fits all? Decide on a frequency that suits your schedule and make sure you stick to it.
Mack Collier believes that posting less frequently helps invite more comments to the most recent post, while Valeria and Chris Brogan post almost every day. And both methods work great. Valeria does her research over weekends to gather ideas for her upcoming posts so that she can post almost every day in the coming week. Some of the bloggers even use editorial calendars to plan their blogging activities well before time.
Most professional bloggers would agree that it is important to be consistent with your blogging activity. Regular posts keep your readers as well as the search engine crawlers coming back. So this is a good SEO as well! If you don't post in a while, you will see a sharp decline in your RSS subscribers.
So shouldn't I take a vacation? Ofcourse you should! What you could do is keep some posts ready and schedule them for posting. WordPress and almost all other blogging platforms will let you schedule posts for future publishing.
At the same time, don't worry too much. Its okay sometimes to not post. Most of your readers understand and know that you are a human being afterall and have a private life. If you are not going to post for a long time, you can let your readers know in advance and they will very much appreciate it.
Finally, here's a summary with some more quick blogging tips to better utilize your time:
Keep a list of topic ideas in a text file and add to it every time you think of one.
Pen and paper would also work equally well!
When you're mobile, use Evernote to take notes.
Research your niche to find out what how you could add more value.
Use RSS readers to read your favorite blogs in one place.
Bookmark useful posts using Ctrl+D or any of the tools like Del.icio.us.
Plan ahead of time. Make use of editorial calendars.
Use a Personal Kanban system to plan out if it works for you.
Be consistent and regular with your blog posting.
A person's ability to take a common topic and make it un-commonly interesting is the key!
Find your passion. Don't measure against others, rather beat your own performance!
Keep your posts to 300-600 words per post, unless you are elaborating something. People hate long scrolling.
Readership or general traffic? Focus on your objective. Sometimes, controversy/polarization also drives comments/traffic.
Write for audience first. You can then edit it to suit your SEO strategy.
Experiment with commenting systems like Disqus and IntenseDebate and find out if it suits you.
Networks and connections matter and are key to tipping points.
Respond to your readers' comments. Use Twitter and Facebook and promote good posts written by other bloggers to your social network.
Install social plugins/widgets from Facebook, Twitter and other social networking sites on your blog.
Ask the Twitter community when you are stuck or need quick help. You might get answers faster than you thought.
Read Chris Brogan's post on How to blog almost every day.
Read Valeria's 50 Content Ideas that create Buzz.
Join #blogchat and discover new perspectives.
Connect, Participate, Collaborate!
Brainstorm further on how to efficiently manage the blogging activity.
Have thoughts or some more time management tips to share? Comments sections is all waiting for you! Go ahead and share, ask, answer. After all collaboration is the key to building relationships!
Thanks to all #blogchat participants for your contribution to this Time Management Tips article. For more blogging tips, do subscribe to my feed via RSS or Email. Don't forget to follow these excellent tweeps from #blogchat tweetup.