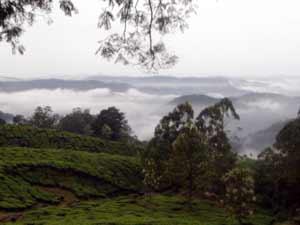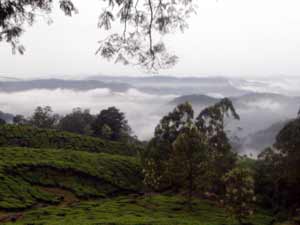 "As Close To Heaven as It Gets" – You would have the same opinion once you see this place by your own eyes. It's so magnetic! You would see beautiful clouds running a level below you as if you are standing in heaven. I'm talking about Munnar – a picturesque little green town in Kerala – the God's own country.
We visited Munnar recently in December. We reached Cochin by flight. It's the nearest airport. After having some snacks we started our journey to Munnar by road. It was raining a bit and it was chilled. The scenery along the way compelled us to stop by and click a few snaps. Despite the drizzling rain, we got off our car and clicked to our hearts' content. It was just heavenly! Driving through hills and curves, we reached our hotel – Westwood Riverside. It was about 4 hours drive from Cochin. Now, it was time to relax. We had our dinner and had a good night's sleep dreaming about the next three days we were to spend in this artistic place.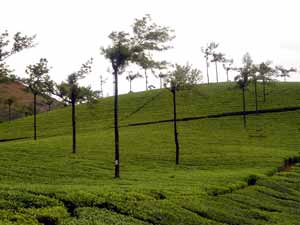 The next morning we were on our way to site seeing in Munnar. We learned that Munnar, which means "Three Rivers" in Tamil language, gets its name from its location. It's situated at the confluence of three rivers Muthirappuzha, Nalathanni, and Kundale. This hill station was once the summer capital of British in South India. You can imagine why the British must have chosen this place as their summer capital. It's so beautiful! You won't feel like going anywhere else.
Among the exotic flora found in the forests it hosts a rarest species of flowers called "Neela kurinji" (Strobilanthes kunthianus). It bathes the Munnar hills in blue every twelve years. The green Munnar turns into blue Munnar then. It last bloomed here in 2006.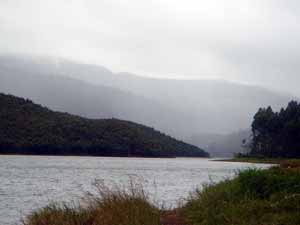 Our first destination was Mattupetty Lake. It's around 13 km from Munnar. The area around is covered by tea estates and alpine scenery. We visited the Mattupetty Dam and then went to the lake to have a boat ride. In the half an hour ride through the lake, we enjoyed the scenery around. Tea plantations everywhere with alpine trees standing in between made a picturesque view. It was just charming! We then visited the Echo Point. Instead of shouting to hear back the echo, we were rather immersed in the beauty around. Flowing water making enchanting sounds, green hills everywhere, clouds touching so low and the chilled weather makes you forget every other thing on your mind. You would just feel like chilling out there. On our way back we visited a small flower garden. Different variety of flowers and plants were on display.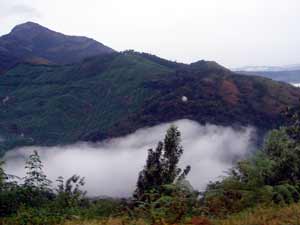 The next day was even more special. We were to visit the Ervikulam National Park at Rajmala. Its rather famous simply by the name Rajmala. Rajmala is home to the last of the Nilgiri Tahr, a shy elusive endangered species. Erivikulam is considered to be one of the best managed national parks in India. Along the way we visited the Tea Museum where we learned the tea manufacturing process.
We reached Rajmala in about 30 minutes. We had to park our car outside. The mini-buses run by the National Park authorities take you through the park. We started moving through the park. You can't just take your eyes off the scenes. Dense forests, green tea estates, valleys, mountains, grasslands and the clouds running so low made a striking contrast. We just clicked clicked and clicked. The pictures speak for themselves.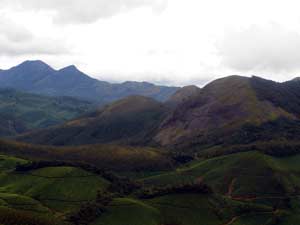 After Munnar, our next destination was Periyar in Thekkadi district of Kerala. It holds the famous Periyar Tiger Reserve. We started our journey to our next hotel in Thekkady. Again, we couldn't help but stop by many times along the way and click to our hearts content. We took more than 250 pictures in Munnar alone. On the way to Periyar, we saw a beautiful waterfall. By early evening, we were at our hotel dreaming about the tiger we were expecting to see in its wildest form.