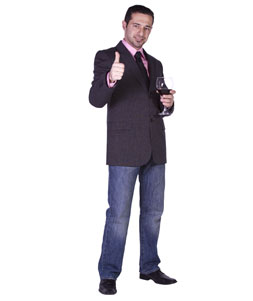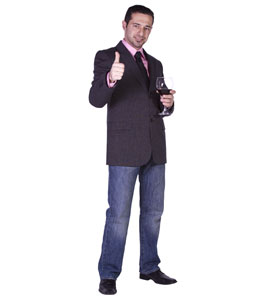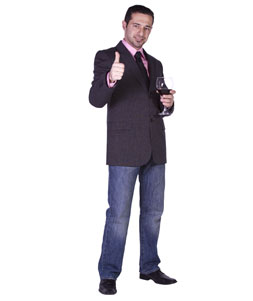 If Obama can wear them, so can you. Jeans are now acceptable everywhere: from the boardroom to the nightclub. Here's how to charge up your denims.
Work & Business Jeans
Jeans are the new formal trousers: Wear your denims to work – but choose a plain, solid coloured pair that looks as good as new whenever you wear it. Refrain from choosing pale or light colours for the office or styles that use attention-seeking buttons instead of rivets, embroidery, prominent branding or any other colour – whether in the form of thread or fabric patches.
Match your jeans with a crisp business shirt, contrasting coloured plain or printed tie and a short length, but sharp stand-alone jacket (one that does not look as if it's missing trousers with it). Accessorise with a simple leather belt, well-maintained laced shoes and a smart carry bag.
Business Travel & Leisure
Comfort Class: Wear jeans when you jet set between meetings, clubs, power lunches and golf courses. Choose any shade of blue or a pair that has varying hues of it on it. Opt for the cling and slim fit – it's a lot easier to live with, especially when you travel. Most denims are crease free – so rest assured your lowers won't end up looking creased or wrinkled when you land or reach where you have to.
Unlike with trousers, jeans are acceptable when repeated day after day – as long as you change what you are wearing on top and under them. You can match your denims with golf shirts, lightweight jackets, soft cardigans, plain or printed shirts (ties are optional) and comfortable slip-in laceless shoes.
Design
Straight / High & Low Waist Jeans
The circumference of a straight cut pair is consistent from the hip, down to the leg and is slim through to the ankles and bottom. The bottom is close to the ankle and does not flare out.
Slim / Tight / Snug Fit Jeans
The skinny jean is tapered through the end of the ankle. This type of jeans requires a good and fit body or smaller hips and a tall or lean build.
Relaxed / Loose / Anti-Fit Jeans
The baggy or relaxed fit tends to fit snug at the waist and starts to flare out at the hip level and either goes that way all the way to the hem or falls straight down from knee level.
Boot / Flared Cut Jeans
The boot cut is tapered to the knee and is slim in the thigh area but tends to go slightly wider from the knee, down to the hem. Some flared styles may end as bell-bottoms (avoidable) as well.
Troubleshooting
If you have issues with your body, here's how to pick the right pair:
Big butt: You should stay away from the snug fit and embrace the relaxed or comfort fit. Avoid jeans that come with embroidered or embellished back pockets as you need to distract the eye (and attention) away from the back, not onto it.
Love handles: If you have sides or a tummy to conceal, you should wear high waist jeans or styles with five pockets so as to flatten the front and sides, and form a smooth plain over the excessive contours of your body.
Skinny legs: Never wear a pair of loose or baggy jeans as the gap between the fabric and your skin will create folds and make you look slimmer than you should. A slim cut will flatter your body better and may make you look a lot fuller and fitter as well.
Short legs: Straight cut or slim fit jeans and straight vertical lines will create an illusion of length, just as high waist styles will. Stay away from anything loose fitting or even slightly flared – especially at the ends.
Big Boy: If you have 'assets' to be proud of and are wearing skin-tight jeans, dress to the centre, but never onto one side. For straight cut, loose or baggy styles – you can dress either to the left or to the right.
Colours
Blue: Dark blue to work, a date or a party and light blue for the day and casual wear.
Black: For more 'dressy' occasions as well as to restaurants, bars, nightclubs and airports.
White and Beige: Leisure or weekend wear – ideal for the day and when and where you can keep them looking clean.
Others: Red, green, orange and other electric and psychedelic hues should be reserved for occasions and party wear.
Night out & Around town
Pump it up: Wear jet black or stark white jeans to the nightclub, lounge bar or party. Snug fit works if you have the body (and assets) to flaunt or a regular straight cut will do. Pick a pair that highlights the curves – both at the front and at the back.
Dress your jeans – add an eye-catching belt, metal chain or a crystal patch on the back pocket but ensure the fabric itself does not look either intentionally weathered, treated or aged. Contrast with a formal black or white shirt or a trendy graphic or metallic T-shirt instead.
Battery Down
It's all down to the basics: It's become virtually impossible to find a pair of plain, untreated, and unembellished jeans in this country. Across most brands, you won't be able to find a pair of jeans without either white patches, textured and treated surfaces, embellishments, fancy zippers or buttons – pathetic, but true.
Size matters: To make matters worse, most brands including (our once favourite) Levi's do not stock a size 30 anymore. What are the slim and fit amongst us to do? Nothing really – as all the 'street level' and 'mass-market' designs that most 'international' brands stock in India, start at waist 32 and end way beyond that. Having said that, don't waste your time looking for the perfect waist to leg length ratio – that just does not exist and most likely you would need to get the length altered to fit you.
Make or Break
Five things to keep in mind when you want to upgrade your regular jeans to power denims:
1. Embellished, treated and 'tampered' jeans do not work as power denims – only plain single coloured ones do.
2. Jeans will continue to look like regular jeans unless you choose the right combinations and accessories. You need to work and build on your look to make it powerful.
3. Low hangers, baggy styles and flared bottoms do not make the cut – only the straight or slim fit can be worn for this look.
4. The ends of your denims should never drag on or touch the floor – ankle cuffs should be pre stitched and not turned up by hand.
5. Do not stuff the pockets with anything that alters the shape or dimension of your jeans – the flatter everything looks, the better it would be.
© HT Media