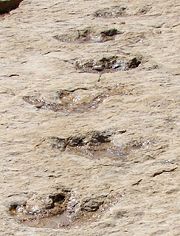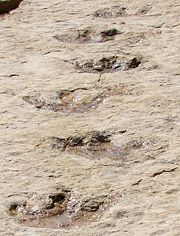 Some of the recently discovered dinosaur footprints
Image: Anne S. Schulp, Mohammed Al-Wosabi and Nancy J. Stevens.
A new study that was recently carried by the online publication PLoS ONE describes the finding of dinosaur tracks on the Arabian Peninsula. The first of the discoveries was of a two-footed tridactyl. These tracks showed that the animal had taken steps with an average length of just over a metre. The tracks were pointing in the SSW direction.
The study noted that "west of the tridactyl trackway, 11 subparallel quadrupedal trackways preserve evidence of large and small quadrupedal animals traveling together in a herd." The study also noted that there may have been additional tracks that were not discovered.
The report described the method of finding the tracks: "Trackways were exposed by clearing away sand, small rocks and debris." The tracks were found in Madar, 47 km north of the Yemeni capital.
Mohammed Al-Daheri, a journalist from the area of the discovery, was the first person to discover the existence of these tracks in the area. Anne S. Schulp, Mohammed Al-Wosabi and Nancy J. Stevens were subsequently contacted and asked to carry out the study.
Source: Wikinews