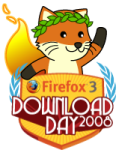 Mozilla Firefox 3 is on the way to set a Guinness World Record to become the most downloaded software in 24 hours.
You too can participate. Firefox 3 will soon be launched. All you have to do is to download Firefox 3 within 24 hours. Currently as I write this post, there are 728,067 supporters already who will download FF3 within 24 hours of its launch – what they call as The Download Day! You can add your entry to the pledge by using the Pledge Now link here.
Firefox is really making waves. Earlier it celebrated 500 million downloads by raising 500 million grains of rice at FreeRice sufficient to feed 25,000 people for a day.