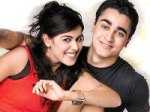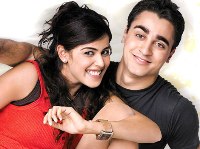 It's a zest fest. Fresh out of college, the graduates are chewing the air, streaking their hair, spinning around on double dates, swigging colas by the crates. And yeah, they have to get serious, quit being delirious and all that pop-rock-fusion jazz.
Writer-director Abbas Tyrewala's Jaane Tu.. Ya Jaane Na – the title's inspired by a song from Manmohan Desai's Aa Gale Lag Jaa – is coltishly young, never mind if at several points it's as irritating as a hung computer.
Star Cast: Imran Khan, Genelia D'Souza, Kool bunch
Direction: Abbas Tyrewala
Rating:



1/2
Like it or not, the plot that goes gaga about a go-on-express-your-feelings saga shares similarities with Mujhe Kuch Kehna Hai and Socha Na Tha. It's also as predictable as heart-shaped balloons on Valentine's Day. Yet it has sufficient charm, smart writing chops and zany zip to keep you smiling. Say cheese.
For once, the 20-something bunch is quite believable, togged out in street fashion, avoiding gobs of make-up and connecting on equal terms, without ever making a mountain out of the molehill of their differing income groups. So if Aditi aka Meow (Genelia D'Souza) is the Richie Richni, driving her best buddy Jai aka Rats (Imran Khan) around town in her fast car, it's no big deal. Phew.
Neither do her parents squawk if he's not cash-rich. More to the point, Meow and Rats are as unlike as Tom and Jerry, with a gender reversal. She's the tough cookie. He may be of martial Rajput stock.. but like good old Tom Sawyer uses his grey cells instead of his fists to fob off the bullies. Brain power over brawn!
Next: Meow and Rats resolve to find each other compatible partners. Once they do, begin the pangs of possessiveness. She doesn't like him slow-dancing with his hi-fi 'chick'. And he sees red when she walks into a poolside party with her mutton-headed fiance. Deadlock.
Largely, the Meow-Rats ado is engagingly scripted. Once the characters are established and some corny situations — like the burial ceremony of a pet kitten — are dispensed with, you're hooked. Scenes like the hi-fi chick's oceanside soliloquy about her bickering parents are particularly tender. Or take the imagination-game, in which mundane objects are replaced with grand airplanes and a hand with a goodbye wave. Lovely.
The bunch of half-a-dozen friends range from the geeky to the cute. All the parents are the type you'd meet next door, especially the tongue-in-cheek social activist (Ratna Pathak-Shah, impressive). And a seemingly laidback brother (Prateik Babbar, a casual, natural-born talent) springs one of the show's most effective moments, drumming some sense into Sister Meow's head. Coolio really.
Vignettes are woven in seamlessly – featuring Paresh Rawal as a creepy-cum-comic cop and Naseeruddin Shah's dead-man portrait jigging into life spoofily. And surprise surprise, Arbaaz-Sohail Khan pop up as two wacko cowboys disrupting the discos with their frantic antics.
On the rankling side, there's the extended flashback device. Quite unnecessarily, the shenanigans are narrated by the lead pair's friends at an airport, taking away considerably from the crispness of the story-telling. The choreography frequently lacks the zing quotient.
Aah, but there's enough comfort food on the platter. Tyrewala's dialogue as well as first-time direction are skillful, with his cinematographer Manoj Lobo using the close-up lens brilliantly. A R Rahman's music score is remarkably bouncy, especially the Kabhi kabhi Aditi and Pappu can't dance tracks.
Correctly, the cast is new and sporty. Alishka Varde as the ever-smiling girl of the gang is likeable. Ayaz Khan, as the smarmy baddy is a face to watch out for. Genelia D'Souza is consistently spontaneous. Above all, the enterprise belongs to debutant Imran Khan who comes up with an intelligent and restrained performance. A star is born for sure in a movie – with all its highs and lows — is as welcome as sunshine in these cloudy days.
© HT Media