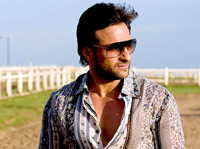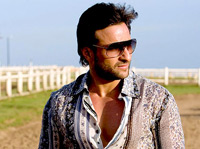 Think drinks. One guzzles lime water, the other's addicted to beer and assorted booze. Indeed, these step-brothers are enough to make you blow an electrical mind fuse. They have no other work in life but to confound and confuse.
Indeed, it would take super-brains – right from Aristotle and Plato to Amartya Sen – to decode Race, a crime-grime-adultery-disco-bomb-explosion thriller. Cars somersault, thud, bang and crash. A very hungry assassin, called Franco, looks as if he could do with potato mash. Meanwhile, the plot turns out to be a mega-rehash. Gnash.
Star Cast: Anil Kapoor, Saif Ali Khan, Akshaye Khanna, Bipasha Basu, Katrina Kaif, Car Explosions
Direction: Abbas-Mustan
Rating:


So, what did you expect from conjoined directors Abbas-Mustan anyway? Their best work, alas, was their earliest, most notably Baazigar. Just compare the terrifying tumble-from-the-terrace killing there to the pure cornball skyscraper dive here. No fear, only jeers. Anything goes, explodes, whams, splatters in the name of MASS entertainment.
But hey A-M bhais, how about a hint or two of sense, sensibility, coherence and credibility please? A ragbag script pinches elements from the brothers' own Ajnabee. And then Fida, Double Jeopardy, Double Indemnity, ye olde Feroz Khan-style skullduggery at the horse races, and hello, even TV's Karamchand and Kitty. Only instead of carrots, K-chand is into bananas..and sugar canes. Phallic puns, very obviously, intended.
The other big deal, in the Durban-located plot, are 20 million. It is not specified whether this is in rupees, dollars, drachmas or yen. Brother Lime Water (Saif Ali Khan) must be bumped off by Booze bhai (Akshaye Khanna displaying a dhuree of chest hair) to achieve a childhood-old vendetta. Badla, he said!
Booze bhai is aided in the gazillion murder plan by a lady (Bipasha Basu) who's so shady that she doesn't need sun goggles. And you're not sure how but a Shadier Lady (Katrina Kaif) is on the scene too, breaking into dances, dances and dances. Fed up of the dances, maybe, everyone then breaks into double crosses, triple twists and quadruple surprises, alas all unpleasant.
Expectedly, detective Karamchand (Anil Kapoor) shows up but to add a questionable brand of humour. As for his Kitty (Sameera Reddy), she looks as if she just returned from one of the gaudier shows of the Wills Fashion Week. Eek. More: the jabber-jabber of the resurrected Johnny Lever gives you instant fever.And please, a diction coach was required on the sets. 'Injuras' for 'injurious', 'intor gate' for 'interrogate' and 'rench' for 'ranch' are just some of the titter-inducing nuggets.
On the technical-front, the cinematography seems to be all lit up for Christmas. The editing goes gaga over split images and dizzying jump cuts. The music score, choreography and costumes suffer from a serious Dhoom 2 complex. And there are inadvertent shots indicating duplicates in the stunt scenes.
Of the cast, Saif Ali Khan evidently thinks it's cool to be expressionless. Shockingly, Akshaye Khanna hams. Bipasha Basu has acted and looked much better before. Sheer eye candy, Katrina Kaif still has to act through. And would she please do her own dubbing? Her dialogue delivery seems to belong to a girl half her age.
Anil Kapoor mouths double entendre dialogue, "Ganna chuskar" which you certainly didn't expect from an actor of his achievement and experience.
Some may ask, but is the drivel still 'time pass'? Honestly, it's an absolutely average Abbas-Mustan plot pourri. But chances are that you might Race out of it, as exhausted as someone who's been driving for hours without a destination.
© HT Media