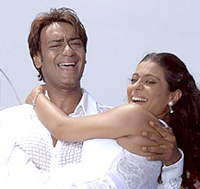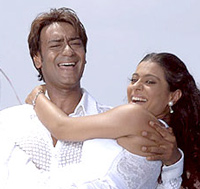 Get this. Whenever Kajol acts, she kills the competition. Of the current lot, no one quite compares. No one can hold a close-up like she does or leap straight out of the screen to involve you in her pleasure and pain.
She's a natural and that quality is mined constantly by first time director Ajay Devgan in U Me aur Hum. Indeed, the direction is remarkably assured, especially in the emotional stretches. You may not connect with the cornball humour in the first-half, set on an ocean liner.
But auspiciously the post-intermission section grabs you by the collar and doesn't let you go. The actor-producer-director, with cool persuasion, compels you to care for the couple, so made for each other, till…one day, she just forgot his name.
Star Cast: Ajay Devgan, Kajol
Direction: Ajay Devgan
Rating:



Two dramatic set pieces are particularly heart wrenching. One, the woman's bout of hysteria at the Alzheimer patient's care centre. And two, the time her husband – a psychiatrist by profession – talks his heart out in a drunken haze. At the end of the day, he states firmly, every individual is selfish, equipped with that self-defence mechanism. Rarely does cinema pause to lend an ear to such introspective asides nowadays.
On the downside, the initial half is inconsistent, expending far too much footage on the ocean liner kerfuffle. Start out then with Pia, a perky bar waitress (Kajol). Ajay (Devgan) is a besotted bachelor, but their geeky friends you itch to fling into the ocean. One couple bickers about marriage (excellently played though by Sumit Raghavan-Divya Dutta), another goes wink-wink-leer-leer-swim-and-salsa. It doesn't help if both of them are as wooden as balsa.
Quite needlessly, silly smutty jokes are cracked. Narrated through a rather complicated web of flashbacks, your interest is rooted in the plot essentially when it deals with the Pia-Ajay, who may or may not be able to salvage their life together. Warm riffs include an evening party breaking into impromptu snatches of a Pakeezah song. Or Pia sashaying into a Sangam-like Buddha mil gaya seduction number. Sweet.
That elements have been borrowed from Hollywood's The Notebook is apparent…but you're relieved that the script is far from a slavish imitation. Consistently, Aseem Bajaj's cinematography is in sync with the heartbeat of its beleaguered lead couple. And Rakesh Ranjan's sound design is effective. Editing? Now that could have been infinitely tighter. What a rotund kid, glaring away menacingly amounts to, you don't have the foggiest.
The Alzheimer's angle remains vague. You're not clued into the condition of Pia during the long years skipped between the flashbacks. It's during a more general, cautionary interlude like Pia forgetting her child in the bath, that you're shaken and stirred.
For its tear-drawing emotional content, a splendid performance by Kajol and Devgan's fluid makeover from an actor of steel to a director of tenderness, you ultimately take U Me aur Hum home with you. Worth a cherish.
© HT Media