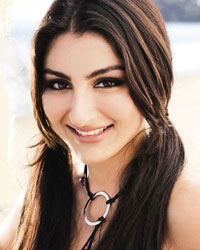 Daughter of actress Sharmila Tagore and cricket legend Mansoor Ali Khan Pataudi, Soha Ali Khan comes with a gloriously mixed pedigree of royalty and glamour. But unlike most star kids, acting wasn't her first career option. It was only after a Master's degree from the London School of Economics and stints with CitiBank and Ford Foundation that she decided to try her luck in films. Though big time box office success has eluded her, Soha received critical acclaim for films like Rang De Basanti and Khoya Khoya Chaand. Now she is awaiting her next release, Tum Mile.
What are you reading at the moment?
A Heart Breaking Work of Staggering Genius.
If you woke and found you'd turned into a man, you would…
I would be very upset. I am very happy being a woman, it makes me feel proud.
Rate in order of importance: Fame, money or power…
Power, money and then fame.
What are you addicted to?
Oats.
Your worst date ever?
Well, I never really had any bad dates. But, yes there was this guy who took me to a few nightclubs one night but never danced. I was sort of angry. This happened when I was in college.
The one fashion trend you do not understand?
I can't understand how people can wear something just because it is trendy; the idea is to wear something that looks good on you.
Your most recent purchase…
My Audi Q 5. One among the most precious purchases I've ever made.
Which current reality show would you participate in and why?
I would never participate in a reality show.
If someone were to write a biography of you, what would you want it to be called?
I think I am too young to get a biography written right now. There is so much more to happen. So, after a few years I would be able to give my readers a little more that would interest them.
You dislike people who…
Are fake. It's impossible to trust them at any point.
Five musts in your wardrobe?
Jeans, black dress, white strappy top, sari and track pants.
If you could ask for any one talent/skill what would it be?
To sing, as I really love doing that.
Tell us one thing nobody knows about you.
I sleep till lunchtime when I am not working. After Tum Mile, the sleep ratio has increased.
You are shocked by…
How pioneering the media can be.
Your biggest phobia?
After shooting for Tum Mile, it's water. I have decided not to shoot for any such film again!
Who do you think your partner has a crush on?
Of course, on me!
The craziest thing you have done for your partner?
Well, I have taken spontaneous leaves and I try to cook for him. I am not good at cooking at all!
Your zodiac sign?
Libra.
Sex is…
Man and woman union.
© HT Media