"Do you really see tigers here?" we asked a native near the Periyar Tiger Reserve in Thekkady district of Kerala. Guess what the reply was – "Only dogs here, sir".
Ervikulam National Park near Munnar, Kerala says "Spotting of animals is strictly a matter of chance". And much to that statement, we saw only two monkeys around. It seems that animals like tiger can now be seen only in zoos. And future generations would see them only on TV and in pictures.
We had already booked our boat at the Periyar Lake. We reached the lake by car. On the way, we saw many signboards saying – Caution: Wild animals may cross the road. We were excited thinking that some animal would cross the path and we would just click a snap. But in vain, none did cross the road.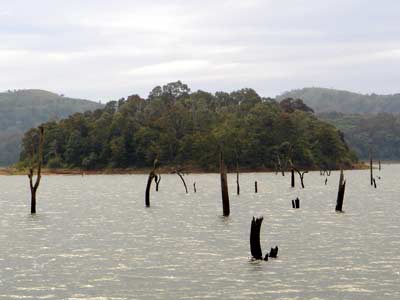 Periyar Lake is formed by building of Mullaperiyar Dam in 1895. This reservoir and the Periyar River meander around these hills, providing a permanent source of water for the wildlife here. We boarded the boat. It was a two hour ride through the Periyar Lake. We were hoping to spot a tiger, we could not. Still, one thing I must say, the scenery around the lake is just amazing. If you are a thrillseeker and a genuine nature lover, you would love to stay here for days and months. Even if you don't cross paths with a tiger, you would still love to enjoy the beauty of nature here.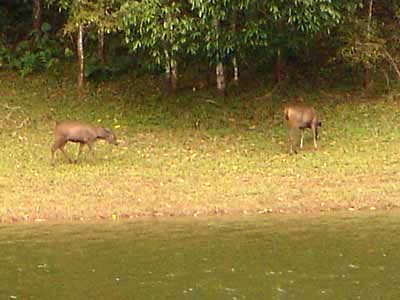 We spotted few animals like Sambar, Deer, Wild Pigs and number of birds, but no tigers. According to the last tiger survey, there are about 35 tigers in Periyar Tiger Reserve. However, we weren't those "lucky" ones to spot one. We did not see elephants either. All elephants I guess are used for the elephant rides for tourists. Yes, even we did an elephant ride. We took a token for the elephant ride and rushed to the spot where the elephants were waiting. There was a tree house through which we were made to sit on the elephant. Her (elephant's) name was Shantakumari.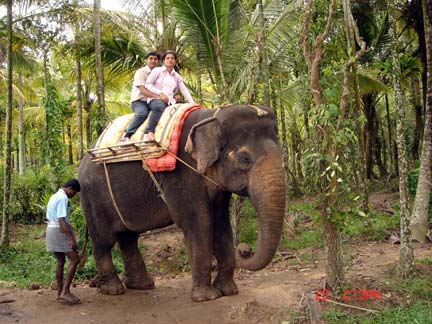 I was amazed to know that these elephants were taught to understand Malayalam, the native language of Kerala. Mahout communicated with her in Malayalam and Shantakumari greeted us by raising her trunk. We started our ride through the forest. It was a different experience altogether. We had a number of snaps clicked to cherish the memories. The best snap was when elephant lifted me up by her trunk. I was told to keep holding her big ears, or the elephant might drop me. It was highly thrilling when I was up in the air. At the end, Shantakumari blessed us by touching her trunk to our heads. We had a wonderful time.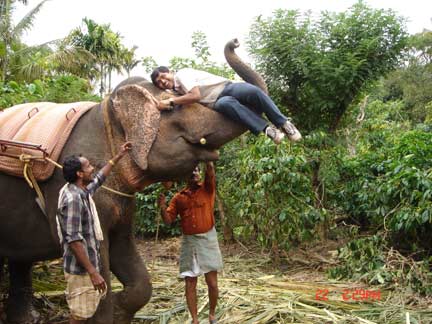 We enjoyed our stay. Only thing we missed was tiger. Sadly, here too, as in the rest of India, the tigers are under threat. I often hear stories of poaching. If we don't do something about it fast, soon we could be boating into the lake and photographing deer grazing confidently, knowing that there is no tiger around to have them for meal.
You too can rescue the Indian tiger from the survival threat. WWF-India has started a signature campaign called "Roar of the Tiger". This is being run in two parallel phases. One is run offline across the country where people put their signatures on large cloth panels, while the other is online. If you would love to see tiger in its wild home, and want your children even to be able to see them, you need to act fast. You can participate in the signature campaign by clicking here.