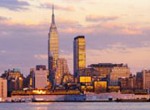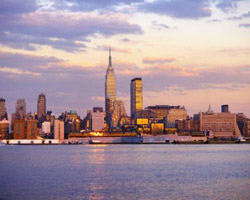 There is something about the energy of New York that hits you like a lightning bolt when you walk the streets, one reason why it is one of my favourite foreign cities.
Day One
On the Air India non-stop to New York. I took the flight from Bombay nearly three years ago when it first started but have never tried the Delhi version. In fact, it is the perfect way to get to NY.
We board at 12.30 am. I have a snack, read for a couple of hours and then go to bed. Our route takes us near the North Pole and then down to North America over Canada till we land at JFK. It is much shorter than I remember and by the time I have woken up and had a cup of coffee and a muffin, we are in New York.
I am staying at the Pierre Hotel, a great New York landmark that was run by the Four Seasons for many years. It is the quintessential, old money New York hotel with a Central Park location and is next door to my favourite New York store, Barneys. The Taj took it over a few years ago and though it was still a great hotel it had begun to look a little tatty around the edges because the Four Seasons spent no money on renovations.
The Pierre closed for something like 15 months while the Taj spent nearly $100 million renovating it. The money has been well spent. Apart from the thrill of seeing the Indian flag fluttering on Fifth Avenue, there is the sense of pride that every Indian must feel at seeing one of America's iconic hotels in Indian hands.
It is always a difficult balance when it comes to deciding how much to Indianise a classic American hotel. How, for instance, would we react if an Arab group took over the Bombay Taj and redecorated in a Bedouin chic style? Or if the Chinese renovated Calcutta's Oberoi Grand with flying dragon motifs? The Taj seems to have found the perfect balance. There is some Indian art in the extended lobby. There's an MF Husain painting at reception and I recognise two other paintings – another Husain and a Jehangir Sabavala – from the Bombay Taj's collection. Front office is efficiently manned by a mixture of young Americans and staff from the Bombay and Delhi Tajs. The Pierre's legendary   Concierges – the best in New York – are supplemented by one from the Bombay Taj and the bar has one or two Indians.
Otherwise, the hotel is as much of an American icon as it has always been, with manually operated elevators run by men and women who have been at The Pierre for decades.
There is something about the energy of New York that hits you like a lightning bolt when you walk the streets, one reason why it is one of my three favourite foreign cities. I spend the whole day wandering around, eating a pavement lunch of a hot dog bought from a roadside vendor.
The New York street dog is one of those you-have-to-be-there phenomena. In parts of Manhattan, the hot dog costs as little as a dollar. (On Fifth Avenue and Central Park, the same hot dog costs three dollars! Location! Location! Location!) At those prices you know that it must contain very little meat – cheap frankfurters are famously made with the 'sweepings of abattoirs'. But, on the New York sidewalk, the crap sausage, the cheap bun and the chemically-enhanced mustard all come together to create a great street food.
I end up at Barnes and Noble on Fifth Avenue and spend the entire afternoon buying books. I've taken a chance for dinner. Danny Meyer is a famous New York restaurateur and owner of the world-famous Union Square Café and Gramercy Tavern. I've never had a bad meal at any of Meyer's restaurants so I decide to eat at one of his more recent operations, the Modern at the Museum of Modern Art.
The Modern has got good reviews: a Michelin star and 26 points for food in Zagat (the top NY rating is 28 – out of a possible maximum of 30). It is divided into two rooms, a casual café and a formal dining room.
The dining room is expensive (the only option is a three course prixe fixe at $114 dollars per head plus tip, which in New York, means another $20 or so) but on the grounds that I want to see what the fuss is about, I go for it.
It is a mistake. I recognise this the moment I see the menu. Danny Meyer says in his autobiography that Tuna Tartare is a cliché dish that you'll never find at one of his restaurants. Well okay, this one has a variation in Scallop and Tuna Tartare but surely it's the same idea? And it is not very good. My son's beef is tender but tasteless till he gives it a mustard heft. Only the desserts redeem the meal. It is okay food, I guess, but hardly worth the price or the reviews.
Day Two
I am taking no chances with the food. Each time I am in New York, I make a pilgrimage to Le Bernardin which is my favourite fish restaurant in the world. The reviews reflect this: three stars in Michelin and New York's top rated restaurant (28 points) according to Zagat.
And it never disappoints. Service is intelligent and attentive. The sommelier chooses perfect wines by the glass to go with the food and the fish is amazing: seared scallops, plump sweet shrimp in a delicate sauce, flaky cod and brilliant bass.
I play it safe at dinner too. Though Nobu Matsuhisa opened his first celebrated restaurant in Los Angeles (where Robert de Niro first ate his food and started their partnership), the restaurant that made his name was in New York. It was here that Masaharu Morimoto was his first Executive Chef and such dishes as Black Cod in Miso became world famous.
Nobu has expanded beyond his first Tribeca original. There is a Nobu, Next Door (which is, actually, next door to the original) and now Nobu 57 in midtown Manhattan between Fifth and Sixth Avenue. We decide to give Nobu 57 a shot and are stunned by the huge room, far better designed than the stark rooms of such Nobus as the one in London's Park Lane.
By now, Nobu fans know the menu by heart: fluke carpaccio, rock shrimp tempura (so-so tonight), teppanyaki beef etc. I am struck by how efficient and cheerful the service is. The restaurant is enormous and packed but nobody is made to wait for his food. Prices too are reasonable for this part of New York (less than half of the Modern) though all three Nobus get 27 points in Zagat.
Day Three
We are meeting my New York cousins for lunch. Not sure what I will like, they have booked that oldstand by: the Union Square Café.
We have an enormous meal (there are five of us). Lots of wine: Meursault, Aligote, Hermitage, Muscat de Beaumes, Champagne etc. Fresh oysters on the half shell, Tuna Tartare (which turns out to be chunks of seared tuna: what is it with Danny Meyer these days?), the famous hamburgers, etc., etc. It's a good enough meal (but not worthy of 22 in Zagat) though service lacks the usual Union Square Café efficiency. Perhaps the restaurant has just been around for too long.
By dinnertime, we are overtired of big meals and decide to sample the Pierre's room service. The sandwiches and the Western food are all excellent. The Indian food, on the other hand, sucks. How can the Taj have got it so wrong?
Day Four
I've asked Maurice, the Pierre's Concierge, if he can get me into the newly-opened Standard Grill in the Meatpacking District. I love the vibe of this recently gentrified part of New York even though I am getting increasingly tired of the self-consciously hip people who hang out there. The Standard is the newest hotel in the district and I am dying to check it out. Maurice says it is a good idea but suggests I go some other day. The Grill accepts no bookings for Sunday brunch and he thinks it will be jampacked with long waits for tables. He suggests another trendy hotel, though it is a generation older than The Standard in trendiness: the Mercer. I know the hotel and love the area so we decide to hit the Mercer Kitchen for brunch.
Despite Zagat's lukewarm review (21 points), I actually prefer it to the Union Square Café. It's a little more self-consciously trendy ("dark, stylish settings" sneers Zagat) but the service is better than the Union Square Café as is the hamburger. The raw tuna turns up not as a tartare but on top of a pizza – amazingly, it works.
Afterwards we wander around SoHo, gawk at the Prada shop (possibly the most spectacular retail space in the world), and end up (on Maurice's recommendation) at the Crosby Street Hotel.
Almost from the time it was invented in the 1980s (with the opening of Morgan's in New York) the hip hotel market has been an American preserve. (Now there is even a corporate version in the W chain, owned by the Starwood conglomerate.) So the British take great pride in Firmdale, a small chain set up by a couple called the Kemps, which owns trendy London hotels in Soho, Covent Garden and Haymarket.
The Crosby Street Hotel is the big one for the Kemps, their attempt to beat the Standards, Mercers, Aces and Royaltons in New York. I like the Kemp properties in London so am intrigued to see what Firmdale can do in SoHo.
In fact, the hotel is a triumph. It is the antithesis of the Ian Schrager-Philippe Starck school of dark and trendy minimalism. It is quirky, warm, welcoming and packed with works of art. We end up at the excellent bar-restaurant for champagne and small plates of chorizo and other tapas and the food is great. It is too early to be sure but the Brits seem to have beaten the New Yorkers on their own turf.
For dinner, I go to Le Caprice, another British import, though this one is at the Pierre itself. Le Caprice is a London institution. The New York version is new (not yet in Michelin or Zagat) and looks right (though the room is very narrow) even if some of the London classics are not on the menu (they removed the famous fish cakes because nobody in New York would order them). The food is okay, the restaurant is packed  (even on a Sunday night) but service lacks the sophistication of London. My fish and chips (thin-cut not thick-cut as they should be) would never have left the kitchen at either Scott's or Sheekey in London (sister restaurants of the Caprice) but I guess standards for British food are lower in New York.
Day Five
There was a time when New York was the Chinese food capital of the world. Such American critics as Craig Claiborne taught us that Chinese cuisine was essentially regional and Hunan food was made famous in New York.
That was before the Chinese mainland opened up however, and before the rest of the world discovered Hong Kong, Taipei or Singapore. Now, the Chinese food in New York is rarely better than mediocre and the standard Chinese restaurant serves such nonsense as General Tso's Chicken (a made-up dish that is to America what Chicken Manchurian is to India).
While New York has excellent Japanese restaurants, the Chinese places are boring. So, if I eat Chinese, I go cheap and cheerful. I used to like a dive on Second Avenue called Grand Sichuan (there are other restaurants with the same name but they have different owners) which did hot, modern Sichuan food. But it is no longer very good, so I try a new place; Szechwan Gourmet. It is so-so.
Dinner is hosted by Hermès whose new store, dedicated only to men, opens on Madison Avenue, a two-minute walk from the Pierre, the next day. Because Hermès is the ultimate French luxury label, it has taken over all of Alain Ducasse's Adour. It is a measure of how important this dinner is to Ducasse, often referred to as the world's greatest chef (certainly he is the only man to ever have won three Michelin stars for three different restaurants simultaneously) that the great man has flown into New York to oversee the proceedings.
Even so, the food and wine leave me baffled. There is a hamachi tuna starter which would not be out of place at one of Danny Meyer's restaurants, paired with a Cakebread Chardonnay from California. The main course is cod in a strange, shellfish-cream sauce though there is also a choice of lamb. The second wine is a Pinot Noir from South Africa.
The Hermès contingent smiles bravely through the meal, pretending to enjoy the food and the sweetish white wine and graciously congratulates Ducasse when he appears at the end of the service. Very odd.
Day Six
I go off in the morning to the preview of the new Hermès store. It is quite stunning, blending modernity with elegance and offering both made-to-measure and bespoke tailoring. It is the only establishment I know of that does bespoke clothes in skins (including crocodile) and also does bespoke knitwear. All bespoke clothes will be made in Paris and the made-to-measure in Italy.
Also at the preview is Alain Ducasse. I ask him about yesterday's dinner.It was not – I struggle to phrase this delicately – the sort of food that one associates with Ducasse. That hamachi starter, for instance; would he put it on the menu in Paris or Monte Carlo?
Absolutely not! Ducasse is surprisingly forthright. He would never serve it in France! This is food for New York. "Did you try the fish?" he asks. I nod glumly. "I served it with a clam chowder sauce! I would never do that in Paris," he explains. Er, yes. But why are we being made to eat all this stuff in New York?
It transpires that Ducasse has taken the failure of his first New York restaurant to heart. The loyal Michelin gave him three stars, of course, but New Yorkers were not impressed. "That was French food like I serve in Paris," he says.
So now, for his second effort, he has invented many dishes specially for the New York palate. Is this a good idea, I venture tentatively. Should Ducasse be trying to be Danny Meyer? Next, he will be putting Tuna Tartare on the menu!
"Tuna Tartare?" Ducasse is matter-of-fact. "It was on the menu. But I took it off now." He has missed the irony.
This conversation having dried up, I ask him about India. It turns out he was here a couple of years ago and had detailed discussions with the Taj group about opening in Bombay but eventually decided against it because the numbers did not add up. That evening is the official opening of the Hermès store. Guests walk past a row of photographers and TV crews, have their names vetted by a clipboard Nazi and then slip inside for a glass of champagne.
The party is a short walk away at an address in Lexington Avenue. It is actually The Armory, quite a well-known party spot in New York. But Hermès has been clever. Because The Armory is on Madison Avenue, they have invited guests to the back entrance on Lexington Avenue. Even veterans of New York's party scene are fooled and do not realise where they are going.
The party itself is jaw-droppingly spectacular. Hermès has transformed the space by dividing it into many different rooms. I go first to a garden where there are stalls serving street food. Some of this is predictable: dim sum, crepes etc. But there is also an aloo chaat stall. Intrigued, I try some – possibly the only time in my life that an American has made chaat for me. It is entirely acceptable.
Then, there is a library area with living room seating and a lavish buffet where people can sit and chat. A third area is a games room with every kind of game from billiards to electronic stuff. I end up finally in a fourth area. This is a perfect recreation of a jazz club with restaurant-style seating. Dinner jacketed waiters take individual orders as guests feast on carpaccio, shrimp cocktail and fresh oysters. The jazz band gives way to a rock band with a singer who looks like a cross between Debbie Harry and a kinky dominatrix. Later, a heavier group comes on.I discover later that hundreds of people turned up. But it all seemed so unhurried, so elegant, so uncrowded and so relaxed that it took my breath away.
Day Seven
Off to the Museum of Modern Art again but this time it is to see the Tim Burton exhibition. By now, I have a problem. It has begun snowing in New York and a blizzard is expected. I have found a message on my voice mail from Air India to say that my flight – along with most others that day – has been cancelled. Washington DC has already been shut down for three days by bad weather. How long will the New York storm last?
I put myself in the hands of the Pierre's Concierges who are as terrific as always. Yes, the flight has been cancelled. No, nobody else is operating to India today. But there are two Air India flights tomorrow and they will make sure I am on one of them. "We'll take care of everything for you, sir," they say, "just enjoy your day." Most impressive of all is that it is an Indian Concierge, a newcomer to New York, who has taken charge so effortlessly. Hermès has booked a private dining room at the Modern and this time the food, served brunch style, is actually quite good. I sit next to Pierre-Alexis Dumas, the son of the legendary Jean-Louis Dumas who ran Hermès for thirty years, inventing the Birkin bag along the way and establishing the house as the world's leading luxury brand.
Jean-Louis is a great lover of India, a friend of the Sarabhais (to this day one Hermès bag is called the Ahmedabad and made in that city), a pal of Bapji Jodhpur's and an associate of JRD Tata. Long before India became fashionable, he had toured every inch of the country. Pierre-Alexis says that he has an exhibition of the photographs his father took of India over three decades or more. Why, I ask, has this exhibition never been shown in India?
The short answer appears to be that nobody seems to have thought of it. Though the pictures have been published in a book to huge acclaim, they have never been shown in India. I tell him that I am sure that the ICCR or some Indian gallery would be thrilled to host the exhibition. Jean-Louis's pictures capture India at important phases of its development.
Dinner that day is with Patrick Thomas, the CEO of Hermès and a wonderfully classy guy of the old school. We go to Nello, an Italian restaurant near the hotel. It is a rich man's restaurant, full of very expensive food and a clubby atmosphere. It is not even rated by Zagat and many New Yorkers I know refuse to go there because they regard it as a rip-off.
This does not worry Patrick who orders an excellent California red along with carpaccio with black truffles followed by tagliolini with more truffles. It is cannot-go-wrong food.
On impulse, I ask for the menu to check the prices. All main courses start at $40 and rise sharply upwards. I ask the owner, "Is this the most expensive Italian restaurant in New York?"
He turns defensive. "Yes. As expensive as Hermès," he says. But not as good, I want to reply.
Day Eight
Coffee with Heiko Kuenstle, the General Manager of the Pierre. I compliment him on how well-run his hotel is. The service is extraordinary and personalised. Doormen greet you by name, elevator operators remember your floor, they download Indian papers from the net and slip them under your door and laundry works like clockwork. Shame about the Indian food, I say.
A classy hotel like the Pierre will only pick up guests by word of mouth so he will have to stay the course till occupancies soar. One short-cut might be to target rich Indians who know the Taj name but in that case, Heiko will have to get the Indian food right. He concedes the point.
The Concierge, meanwhile, has proved as good as his word. He has put me on the Air India non-stop today. I manage a quick lunch at Jean-Georges across Central Park (at $29 for two courses, the best deal in New York) and the food is brilliant – easy to see why it got three stars from Michelin and is Zagat's third best restaurant in New York. (Bernardin is first and Daniel, which I am not wild about, is second.)
The Hermès party has found seats on Air France to Paris and leave, raving about the Pierre. As an Indian, it is a good feeling. When the heads of the world's leading luxury brand are impressed by the luxury of an Indian hotel in New York, it is hard not to feel proud.
© HT Media