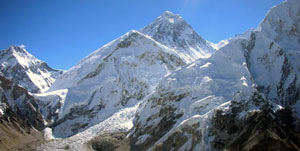 Trekking in Nepal is one of the most popular activities tourists enjoy. Trekking means simply walking up and down in higher mountains crossing villages, high passes, dense forests, valleys. Trekking – hiking along the trails that form the main link between Nepal's isolated villages and settlements is country's one of the main attractions. The word trekking was almost unheard of in Nepal until the sixties but today many visitors come to Nepal solely to trek. Trekking in Nepal is one of the unique and adventurous activities in the world. Normally you will walk over 18,000 ft. (5.500m) of height where you can enjoy panoramic snow covered mountains.
There are three most popular trekking regions in Nepal:
Everest region: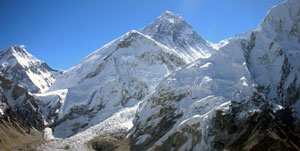 By name, you can guess it's the land of Mt. Everest (8850m), highest mountain in the world. This is one dreamed destination for adventerous lovers. Everest region was the main destination from early, even before Edmund Hilary and Tenzing Norgey Sherpa summit Everest. Everest Region is famous for Sherpas and Buddhist culture. Beside Mt. Everest , we can see the panoramic view of Lhotse , Nuptse, Ama Dablam, Pumori and Kwangde and other higher peaks. Also, Everest region is rich for ancient Buddhist monasteries.
Annapurna region:
Annapurna Region is one of the most popular trekking destinations in Nepal. This enormous forest of frozen Himalayan giants can be circumnavigated in a trek of about two to three weeks, or it is possible to do shorter treks which bring you very close to the precipitous frozen slopes and glaciers. The Annapurna Sanctuary Pilgrimage trek takes you into the heart of a magnificent high valley surrounded by the Range. Each trekking is distinguished by a staff of well-known to local communities, experienced in trekking techniques and eager to make memorable trek, among the best one you have ever taken.
All Annapurna trekking start and end at Pokhara. It is possible to extend your trekking from Pokhara to Royal Chitwan National Park either by vehicle or River Raft or Elephant Safaris and game viewing or return to Kathmandu.
Langtang region:
Langtang-Helambu is in the north of Kathmandu . In this region Langtang, Helambu, Ganesh Himal trek is covered. Gosaikunda ( Holly Lake ) and panoramic view of surrounding mountains are major attraction of this region. Langtang was declared National Park in 1976 and is a natural habitat of more than 1000 plants, 150 birds' species and numerous other mammals. Trekking starts from Dhunche or Shyabru Bensi.
Mr. Binod Dahal is the Managing Director of World Heritage Treks & Expeditions Pvt Ltd, Nepal. Founded in 1980, the company provides specialized Trek and Expedition services in and around Nepal.
More info: