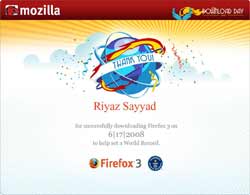 Mozilla's new browser Firefox 3.0 has been downloaded over 8 million times within 24 hours of its launch. The Mozilla Foundation had encouraged users worldwide to download their latest browser on the Download Day in an attempt to enter the Guinness Book of World Records. The target of five million downloads was reached earlier on June 18, and with few minutes to go, the eight million mark was reached as well.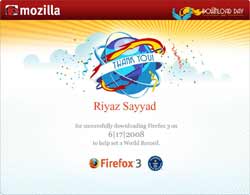 The 24 hour download session ended at 18:16 UTC today (June 18), one hour later than the original time of 17:00. This delay is due to technical problems which included the servers being overwhelmed. For a while after the specified launch time, the Firefox website linked to a download for Firefox 2.
Over 2.5 million of the downloads were from the European Union and the United States each. India recorded over 79,000 downloads.
If you participated in the Download Day, get your own personalized Firefox 3 Download Day certificate from spreadfirefox.com. Simply type your name and submit to get your copy of certificate in PDF format.
Source: Wikinews, CC-by-2.5