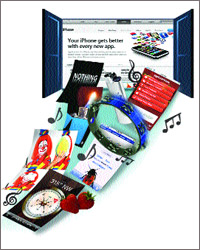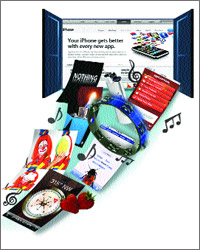 This will sound odd, and might date me the way radiocarbon dates old trees. The first mobile phone I bought was just to make phone calls. At Rs 16 a minute, to boot. Oh well, this was 1996, a different era. Hey, it was an earlier century, in the last millennium.
This – now this is the iPhone age. That thing in your pocket, it ain't a phone. It's the Communicator from Star Trek. It's a universal infotainment terminal. It does stuff we couldn't have dreamt of in the nineties, from letting you read books and watch movies on it, to storing (and editing) all your life's documents, telling you your exact location on the planet and tomorrow's weather…
Oh, it also makes phone calls, though it may not always be very good at that. The iPhone, and all the 'inspired others' from Nokia and Samsung and HTC and Google, including Android superstar Nexus One… they aren't the best at making phone calls. But boy, do they ever multitask. Think of something you'd like them to do, and you'll find an app to do it. The smartphone is an app platform today. And it's in your pocket.
Where do you get the apps? Those street-mapping, fortune-telling, game-playing pieces of software that will save your soul, and maybe your life? You know you want to drink a virtual beer on your phone, like, now. Or you're feeling Dylanesque, or just smoke-y in a smoke-free zone, and want an app, asap?
Why, in an app store, of course. For your iPhone, you'd head to Apple's App Store. And for a dollar a pop, you'd buy the iBeer app, or ShakeYa Tambourine (you play it by shaking your iPhone, like a real tambourine). Or iSmoke, for a virtual pipe (with which you might need the free Virtual Zippo Lighter). Or Pie in the Face, to throw a virtual pie at someone's photo.
The app store is a web site where you download apps (applications for your phone), both free and paid for. Apple proved that selling mobile applications for smartphones is big business.
The app store carried on the tradition of Apple reinventing sliced bread, and changing the world. The PC-internet world was used to sites like download.com and filez.com, storehouses for free and paid software that you could download. No one called them app stores in the BA (Before Apple) era. The less-than-two-year-old iPhone App Store now has over 65,000 apps from 100,000 developers, and has seen 3 billion downloads by iPhone users.
APPS SUPERSTORE
If you haven't yet, do visit apple.com/iphone/appstore, even if you don't have an iPhone. From apps for cooks to those for music or the great outdoors… you get a crash course in app stores. And if you've ever used those file-download sites on the internet, then you get a bonus crash course in the power of branding, packaging, design and Apple.
Quick, said the copycat app stores, we want in too. Nokia's Ovi Store, Google's Android Market, BlackBerry's App World all followed in 2009, as did app stores from Microsoft, LG Electronics, and others. Apple has the head start, but Nokia has the volume base.
Nokia's store (ovi.com) is a must-visit if you use a Nokia smartphone, and has thousands of apps, many of them free. Ditto for blackberry.com/appworld, if you use a BlackBerry. Google's android.com/market is rapidly building up thousands of apps: Android was built from the ground up as a great apps platform, more than a phone platform.
Then there are operators such as Airtel and Reliance, who're building their own app stores, which I think is a bit pointless… they don't control the device or its apps as tightly as the US operators do. But yes, if they manage to build up some Indian apps, that would be a good thing. Yet, at the annual GSM Mobile World Congress in Barcelona this month, most operators agreed that they'd want to offer access to multiple app stores, with some cut of the action, rather than build their own – sort of like owning a shopping mall rather than running each shop.
The mushrooming app stores does mean a fragmented market. Developers have to create a dozen different versions of each app, for the various phone 'platforms'. But it also means a spectrum of choice for mobile users – from cheap, or free, apps – and rising data usage for operators.
And it means that we're rapidly moving forward to the future of the mobile – as a converged, universal, personal application terminal running a spectrum of productivity and entertainment apps.
© HT Media