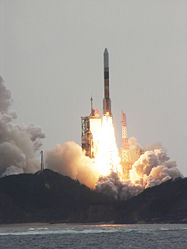 A Japanese H-IIA carrier rocket has successfully launched the Wideband InterNetworking test and Demonstration Satellite (WINDS) experimental communication satellite. WINDS, also known as Kizuna, is a Japanese spacecraft intended to relay Internet access to homes and organisations in Japan, as part of a programme known as i-Space. It will be operated by JAXA, and Japan's National Institute of Information and Communications Technology (NICT).
The launch was conducted by Mitsubishi Heavy Industries. The spacecraft separated from the carrier rocket 28 minutes into the flight, at 09:23 GMT. The rocket placed the satellite into a Geosynchronous transfer orbit, from which the spacecraft will transfer, under its own power, to a Geosynchronous orbit, approximately 35,000 kilometres above the equator.
Launch, from the Tanegashima Space Centre occurred at 08:55 GMT (17:55 JST) today, following several delays. Launch was originally scheduled for late 2007, but was delayed until early 2008 for unspecified reasons. More recently, launch was delayed from last Friday (15th), due to a problem with a valve in the second stage engine. Today's launch window opened at 07:20 GMT, however the rocket was launched at the end due to high winds, and a fishing boat entering the launch corridor.
This is the 14th flight of the H-IIA rocket, and the seventh orbital launch of 2008.
Source: Wikinews, CC-by-2.5