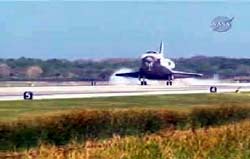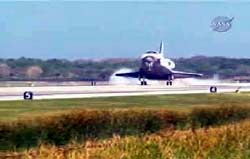 Landing of STS-122
Source: NASA
Space Shuttle Atlantis completes mission STS-122
Space Shuttle Atlantis landed on runway 15 of the Kennedy Space Center Shuttle Landing Facility, completing the STS-122 mission to the International Space Station (ISS). Landing occurred at the earliest opportunity today, with Atlantis touching down at 14:07:10 GMT (09:07:10 local time), following a de-orbit burn at 13:00 GMT, and entry interface at 13:35. Wheel-stop occurred at 14:08:08 GMT.
During STS-122, the Columbus module was installed on the space station, a nitrogen coolant tank was replaced, and a the CMG-3 control gyroscope, which had been removed during the STS-118 mission last August, was collected for return to Earth. Three spacewalks were conducted. The mission lasted 12 days, 18 hours, 21 minutes, and 40 seconds.
Seven astronauts returned to Earth aboard Atlantis; Stephen Frick, Alan G. Poindexter, Leland D. Melvin, Rex J. Walheim, Hans Schlegel, Stanley G. Love, and Daniel M. Tani. Léopold Eyharts was launched aboard Atlantis, but remained aboard the station, replacing Tani as part of the Expedition 16 crew. Tani returned to Earth after 120 days in space as a member of Expedition 16. He was originally scheduled to return in December, however this was delayed because of problems launching Atlantis.
Atlantis' successful landing means that there is now no impediment to the US Navy's attempt to destroy a failed satellite in orbit, which is expected to occur at 03:30 GMT tomorrow morning. This could not have been conducted before Atlantis landed, as the debris it is expected to create could have damaged the Shuttle as it descended from orbit.
The next Space Shuttle mission, STS-123, using the Space Shuttle Endeavour, is scheduled to launch in early March, with Japanese and Canadian components for the Space Station. Atlantis' next mission will be STS-125, the final mission to service the Hubble Space Telescope, which is scheduled for launch in late August.
Source: Wikinews, CC-BY-2.5