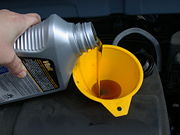 At USD 135 a barrel, the price of oil today reached a new high. BBC News has reported that this recent increase is due to figures showing a large decrease in the US petroleum supply.
However, as of 20:00 UTC prices have fallen nearly two percent since yesterday and are back below USD 131. Over half of oil executives believe that the price will fall to USD 100 a barrel toward the end of the year according to an Associated Press report.
NYMEX/WTI: USD 131.06/barrel
USD .25 (.19%)
ICE/Brent: USD 129.93/barrel

USD -.68 (-.52%)
02:00, 23 May 2008 (UTC)
The U.S. average retail price for regular gasoline also recently increased to a new all-time high, with the price going up 6.9 cents to 379.1 cents per gallon. This was the eighth consecutive week for the US average price to increase.
Air France-KLM recently said that they would be challenged by the rising oil price. American Airlines has announced thousands of job cuts.
In addition, the U.S. has seen the cost of food rise significantly, an issue which food manufacturers and retail stores blame on the high price of fuel required for transportation. For example, CNN.com reports a 16.7% increase in the cost of hamburger buns, a staple item for many U.S. families.
More: