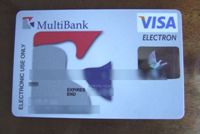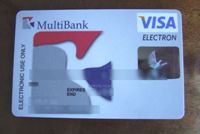 Visa credit card.
Visa, Inc. announced on February 25, 2008 that it would soon go ahead with a much-anticipated initial public offering (IPO) of about half its shares. This would make it the single biggest IPO in United States history, according to the regulatory filing the company made. Visa hopes to raise about US$17-19 billion, emulating its main rival, MasterCard Inc., which successfully put out an IPO in 2006.
Shares are expected to range from $37 to $42 each. Visa is banking on a changing global economy which relies less on liquid cash and more on credit. Revenue at both Visa and MasterCard has climbed as consumers pay for more purchases with credit and debit cards, instead of cash. Cards are expected to be used for 55 percent of all U.S. consumer transactions by 2011, up from 40 percent in 2005.
Analysts have suggested that current economic conditions, the sub-prime mortgage crisis and the weakening dollar, may leave investors skeptical about Visa's potential earnings. However, as both Visa and MasterCard charge fees for transactions made with their cards and do not actually give credit, they avoid the current credit crunch and possible defaulted loans. Nonetheless, a slowdown in consumer spending would hurt the revenue stream of both Visa and MasterCard.
The two other main competitors, American Express and Discover, operate their own credit-lending networks and could therefore be vulnerable to credit risks.
Source: Wikinews, CC-by-2.5