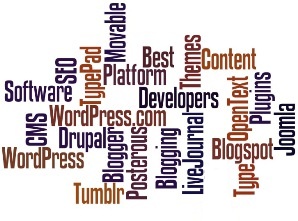 There are numerous blog platforms available today. Earlier we looked into the how to choose the right blogging platform or a content management system (CMS) for your website. In this article we will look at the popular blogging platforms or CMS available today and how they stack up. This should make it easy for you to make a choice of the platform that suits you the best.
Hosted Blog Platforms

This is what you could consider for starting a personal blog. They are easy to use and most are free or quite affordable. Popular ones in this category include Blogger, WordPress.com, TypePad, LiveJournal, and Posterous.
Another interesting option to consider is Tumblr. It is a micro-blogging platform where users can create short but frequent posts. Tumblr is actually a combination of a full-fledged blog and a Twitter feed where you can share what blog posts, photos and other media.
The hosted blog platforms are called so because host your blog on their own domain. You don't need to purchase hosting space separately. All you need to do is create and online account with them and you can start blogging.
They provide readymade templates which you can customize to some degree. In many cases, you can also have your own domain name which you can purchase separately.
You are not expected to have technical knowledge. You have several options (although limited to some extent) to tweak and customize how your website looks. So, if you are not interested in spending lot of time tweaking the look and feel, you can choose one of these platforms.
Self-Hosted Blog Platforms
What follows is a comparison of popular blog platforms which you can host on your server or web host. With these you have more flexibility in terms of design and your content.
Movable Type

This one comes from the makers of TypePad. While Typepad starts with a price tag of $8.95, Movable Type has a free version. Movable Type is much more powerful than TypePad and is open source. There are many third-party plug-ins that can enhance your site. If you are a novice, initial setup could be a daunting task.
Number of design themes available either in-house or from third party are limited. Good only if you don't want to add too many bells and whistles to your website.
WordPress

WordPress is free and easy to setup. You will however need to spend enough time on its design. It's one of the most powerful blogging software available. There are numerous themes and plugins available that further enhance its functionality. You can have very high degree of customization. Upgrading WordPress is easy and seamless.
Many third party websites provide theme frameworks for WordPress. Some of the popular ones are Thesis, Headway, Genesis, Thematic and Hybrid. You could either choose from their awesome collection of ready-to-use themes or use these frameworks to create child theme for your blog.
You will need some degree of technical expertise to do it all yourself. Many bloggers who choose to do all the work themselves generally tend to use WordPress. Alternatively, you could hire someone to do it for you. Many bloggers provide WordPress installation, theme customization services from as low as $25. However, to have real value out of it, you must be willing to spend more. WordPress also supports multi-site feature so you can manage multiple blogs in one place.
Popular websites like Mashable, Problogger use WordPress as their publishing platform. This website is also powered by WordPress. For WordPress users, we also provide social networking plugins like GetSocial, Social Metrics and WP-Tweetbox.
Joomla

Joomla is open source and much more feature-rich when it comes to corporate portals, small business websites where you need some sort of e-commerce functionality. Like WordPress, Joomla is also supported by strong developer community, although not as substantial.
If you are going to maintain it yourself, you probably are better off with WordPress. If you are looking for real customization, you should be willing spend some extra cash to hire developers to design and maintain it.
Popular names using Joomla include Harvard University, MTV Networks Quizilla and Citibank.
Drupal

Similar to Joomla, Drupal is an open source CMS that provides better functionality when it comes to e-commerce and ad servers. Supported by a huge user community, you can manifest just about anything with Drupal. However, stay away if you are thinking of doing it yourself. It could give you hard time if you are a novice. You will need someone to install it and set up different plugins to customize it.
Again, if you are new, go with WordPress or even easier option would be any of the hosted blog platforms.
Popular names like The White House, The Economist have chosen to go with Drupal.
OpenText

Meant only for big businesses as you should be willing to spend couple of hundred thousand dollars. You could consider OpenText or similar custom CMS providers when you need a fully customizable, highly flexible and complex website. You get what you ask for off course at a cost.
OpenText has big names like Mercedes-Benz, Hyatt, Behr under its hood.
Conclusion
The blog platforms discussed here are the most prominent ones. Which one to choose, again depends on the your particular needs and aspirations.
"If you have access to technical expertise and resources for design and maintenance or can do it yourself, choose one of the self-hosted blog platforms. Else go with hosted blog platforms to begin with."
We earlier discussed the considerations to make while selecting the right CMS or blog platform for your online presence. Keeping those considerations in mind, evaluate different blog platforms and zero in on one that suits best to your needs.